Business Card CD Label Design Specifications - For Laser Labels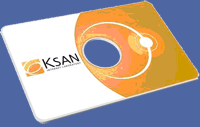 Our 55MB disc labels measure 83.5mm x 57.5mm, although we recommend having a 4mm bleed around all edges of the label, including the central cut. The label that you design should therefore be 91.5mm x 65.5mm and produced at a resolution of 600dpi for best results.
If you are creating a basic canvas in an image editing program then your canvas should measure 2162 x 1547 pixels for a 600dpi image.
Images should be exported as a 100% JPEG or TIFF image in either CMYK or RGB for best results.

Leave more than your name, address and telephone number. A small presentation on a CD Business Card or Mini-CD can remind potential clients of your services long after the meeting. Ideal for product catalogs, modelling portfolios, electronic press kits and more. CD Business Cards can hold 40 MB of information and Mini-CDs can hold up to 180 MB of data or 20 minutes of CD Audio. You can even link the CD presentation to your web site as well as providing a hot link for e-mail.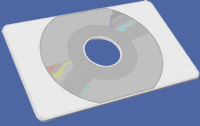 What is a Business Card CD? It is a specially designed CD that fits perfectly in your wallet, pocket or purse. CD Business Cards can hold up to 100mb of interactive media and play in a standard CD ROM drive.
This form of communication will help establish a more memorable link with your existing and potential customers, providing them with an interactive interface for your marketing communications, products, customer services and much more.
Many of our clients ask us to design Business Card CDs for them to hand out at trade shows and other events. These are a good choice because of their convenient size. This makes it easy for individuals to take the CD with them for viewing on a home or office computer. A Business Card CD is therefore the perfect advertising vehicle because it creates a lasting impression in the potential customer's mind.
Flash презентации:
Изготовление flash презентации Центра глазного протезирования
Flash презентация PHILIP MORRIS
Создание flash презентации GRASET
Разработка FLASH презентации рекламного агентства
Создание мультимедийной flash презентации KROST
Создание flash презентации SIEMENS
Разработка мультимедийной flash презентации BEVINCO
Разработка flash презентации ABN AMRO
Создание flash презентации строительной компании
Флэш презентация ABN AMRO
. . . портфолио . . .